Partying with the first world champions of motocross!
AHRMA Premier Classic vintage motocross
Steamboat Springs, Colo.
  June 21, 2009
  By Chuck Sun
Most studied motocross riders know of the legendary two-stroke racing history of Belgium's Joel Robert and Roger DeCoster, and that of American champion Gary Jones, from the late '60s to early '70s. Many are less aware of the young riders that emerged in the late '40s after the siege of the Second World War. These passionate racers competed in European championships as the sport evolved toward the very first FIM World Motocross Championship in 1957.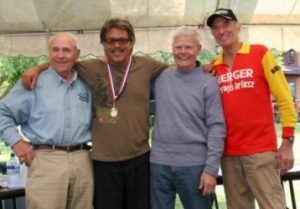 Enter the American Historic Racing Motorcycle Association's (AHRMA) Premier/Classic motocross series, with a round held on Jamie Jenny's Steamboat Springs, Colo., ranch. The series celebrates the running of our sport's most exotic machines. Thanks in large part to AHRMA racer Doug Gagnon arranging some special travel plans, everyone was treated to the presence of the very first world champions of the sport of motocross!
This year Jenny threw a party to celebrate the 75th birthdays of Jeff Smith and Dick Mann. When world champs Bill Nilsson ('57 and '60) Sten Lundin ('59 and '61) walked in Smith was in shock, but quickly recovered, laughing in astonishment, "My God, it's Billy the Pig! And the Storkin Sten Lundin!" Seventy-eight-year-young Nilsson was quick to pull out a photo of his restored AJS saying, "This is so Jeff can see more than just the rear fender!" In 1957 Nilsson made a last lap pass stick on an aggressive young Smith to win a Gran Prix on his way to the becoming the very first FIM 500 World Motocross Champion. Now I know where trash talk was invented! Smith had great teachers on his way to becoming the world's best aboard his factory BSA in '64 and '65.
Just a year before the Steamboat Springs party I was fortunate to meet 1956 European Champ Les Archer that Bill, Sten and Jeff hold in high regard as their teacher!  Sten edged Bill for the win at the French Laguepie GP in 1959 where I met Archer and was fortunate to race with another era World Champion Graham Noyce!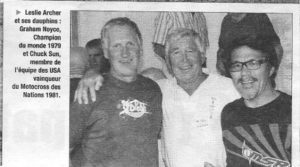 American legend and Grand National Champion Dick Mann laid out the Steamboat course. Taking advantage of the hilly grass pasture, he created a classic motocross track featuring natural off-camber turns, a couple sweepers — providing two-minute lap times of more fun than you can imagine. Mann and his wife Kay have been the driving forces behind Premier/Classic vintage motocross for AHRMA and they are the reason why we are able to enjoy riding these machines today. Mann builds a bulk of the classic bikes running today. It's truly an art form. Creating bikes representing this era, crafted with an AJS tranny mated to an Ariel or BSA, or a Vincent power plant grafted into perhaps a Rickman or Boyd and Stelling frame.
Imagine pulling a 1963 Dick Mann-built Monark from the AMA Motorcycle Hall of Fame Museum and ripping a few laps! Well, that's exactly what World Champion Sten Lundin decided to do.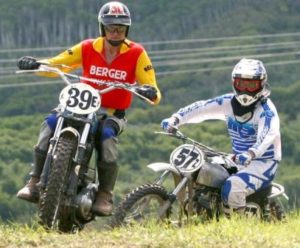 Everyone gazed in awe as the 1959 champion, sporting original riding gear, throttled up John Sawazhki's replica Monark, echoing sounds of the past, giving goose bumps to the lucky few to witness Lundin's return to glory. Bill Nilsson nudged me in his rich Swedish accent, "Go have fun Shuck and ride vith Sten." I required no further encouragement and fired up AHRMA racer Rob Poole's 500 BSA to chase after the living legend. Lundin was learning the track as I stalked his every move. The world champ chose lines outside the worn grass — rendered from the earlier mortal's practice — then, upon entering turns he crossed the main line to the inside, exiting with a smooth grace, leaning the Monark from corner to apex. Seamless arcs painted on the grass canvas created from the same energy preserving style that put Lundin on the top podium in the 1959 and 1961 World Motocross Championships. As we rode up to the finish line I was thinking, I'll get up next to Lundin for a photo op. Not so fast as he hooked up the mighty Monark and pulled ahead on the uphill straight! Plan was to ride a lap or two, but after five or six, officials had to throw out the checkered flag to pull Mr. Lundin off the course in preparation for the first moto! He had a blast carving up the multi-turn course and was sporting a grin from ear to ear as he savored the ride. For a moment I was transported back in time to 1959 — only they rode these 300-pound bikes for two 45-minute motos!
In Sweden Lundin and Nilsson trained with world-class cross-country skiers, Nilsson surprising them by beating them in competition. Nilsson recorded repeat wins in the grueling off-road Swedish classic Novemberkasan, the equivalent to the Baja 500, only in the mud and snow on a BSA! Smith enjoyed tough sand tracks, received training support in the gym from an Olympic buddy. Smith told his buddy he wanted to come in after 45-minute motos and be able to do pushups!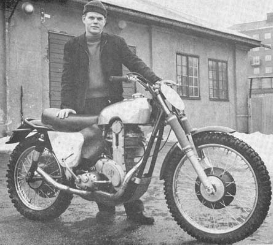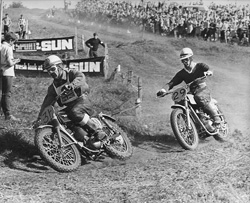 What's it like to ride a 50 year old Motocross bike? In a word, Huge Fun! OK, two words. First off these bikes were designed for courses of the day resembling Dick Mann's bannered layout in the grass at Jamie's farm. Torque from low RPM pulls evenly, ready for the next shift as over rev is a modern day marvel. The sensation that strikes me most is cornering. I knew there was something missing in my life? I had no idea the void would be satisfied from the leaning of vintage motocross bikes carving up turns! Lap after lap you carve a smoother arc maintaining momentum a gear higher, initiating the turn by laying the bike over early upon entry, pushing traction over the limit in a slide…ahh I've arrived to my happy place!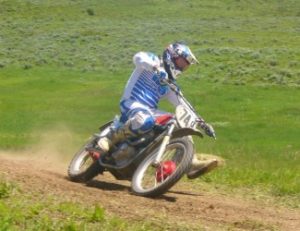 I have come to an even greater appreciation for the sport of Motocross after riding these machines and hold great admiration for the very first champions of Motocross, that not only found the fast way around the track but could build these machines that have evolved to what we ride today. Thanks to Bill, Sten, Jeff and Dick for sharing their great accomplishments and ongoing passion for racing. Summer Solstice in the Mountains of Colorado, acting like kids again doing what comes natural…riding and talking dirt bikes!
Since this article Bill Nillson and Sten Lundin are no longer with us.  It is was one of my greatest experiences to hear their stories and get to know these great champions.....God speed gentleman!